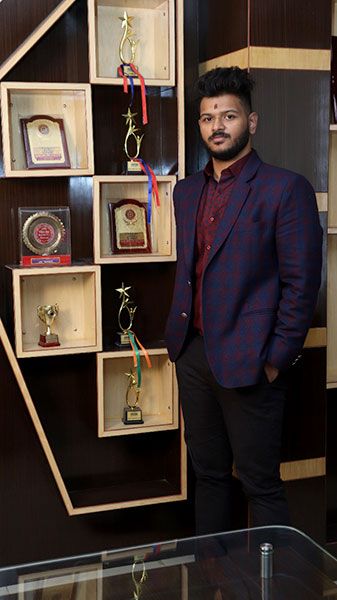 Mr. Akash Roy
Member, Angel Education Society
Manager, Kalyani Kalyani Public School, Barasat
Live as if you to die tomorrow.
Learn as if you were to live forever.
The children at our school are trained and encouraged to explore, reach out and seek to answer for themselves. Our mission is to be the institution of excellence in education in terms of Keeping the heritage of our nation intact and also simultaneous development of body, mind and spirit we have a vision of creating dynamic, Charismatic, enthusiastic and innovative citizen who would meet the global challenges without any hesitation and also retain the traditional values. We feel the development of humanity is the most effective lesson. To be taught to the pioneers of our future society. Now excellence doesn't happen by chance of coincidence. All our school under Angel Education Society believe that excellence is a process where we mould our curriculum and the teaching methods as a combination of the best modern and traditional, which turns our students into complete individuals with the proper mix of values, knowledge and leadership qualities instilled.
People say that there exists a thin dividing line that separates a good school from a truly separates a good school from a truly great school. I am happy to say that we are moving steadily along the journey to greatness, and it is a pleasure to be accompanied on this journey by so many wonderful people like our students and their parents also our staff and the wonderful faculty members.
Mr. Ankit Roy
Member, Angel Education Society
Manager, Mother International School, Salt Lake
The beautiful thing about learning
is that nobody can take it away from you.
As a young Educator and entrepreneur I believe that a school creates brilliance when the teacher view to tap out the full potential of their students. This is the secret of the success of Kalyani Public School and all other schools under Angel Education Society. Indian Education System has undergone a vigorous transformation. We have experienced learning in Gurukul and shikshagrahas with an elementary tablet sized blackboards and now educating the future youth of our country on the tablet itself. The game change in education is 'Digitalization' with the evolution of new techniques like Smart class, Tablet, E-learning classroom, Software and Apps has defined itself as a means of both liberation and exploration that can sure remould our conventional teaching methods. At Kalyani Public School there is a perfect blend of traditional and digital teaching to facilitate learning and pave the way to strengthen modern education.